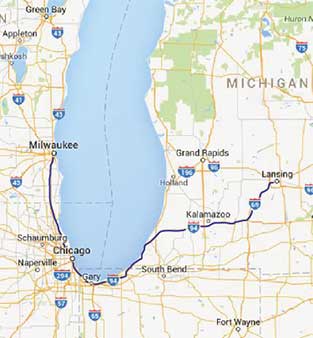 Milwaukee - March 2015 - Ray's Indoor MTB Park
Last year, I went to Ray's Indoor Mountain Bike Park, in Milwaukee, for the first time. It was great, I really enjoyed it. Well, it turns out that they change the lines every year, shutting down in the summer while mountain bikers are outside riding. This year, it was quite a bit different than it was last year, but the difficulty level was about the same - except for the beginner section, which seemed to be a bit more interesting than it was the year before. Like last year, I was able to ride every thing in the beginner and Sport sections, but was only able to ride a few lines of the Expert section. I spent five hours there this year, compared to three the year before - I think I was pacing myself more this year, and it could be that I'm in better shape now.
I took some videos of a couple of guys there that were really good. One of them was on a fat bike and seemed to have no fear, tackling lines over and over and falling without getting hurt. The other guy was padded up and had a full-face helmet. He had apparently had a number of injuries and decided that the protection would be a good idea. I wore the pads that they offer for free, but a lot of people didn't. There was only one ambulance run while I was there (none last year) - somebody broke their ankle or leg doing jumps while being filmed by his buddies. Perhaps he tried to do something extra dangerous since he was on camera?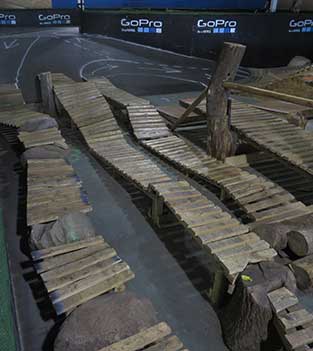 The Sport section
I wish I had taken pictures of the Beginner section, just for this trip report, but I went in, rode every line there, then never went back. It was interesting, but I guess I wanted to take pictures of the better lines.
The Sport section has a lot of wide and easy lines, but also some skinnier and more difficult lines. There is one elevated skinny (below right - click it for a larger image), probably 18" off the concrete and six inches wide, which, at probably around 40 feet long, is a challenge. I had to try it a number of times before I cleaned it. There are a few wide and not very high teeter-totters that can be fun to ride a couple of times. Just keep your speed up and blast right over them and you won't have any problems. They have marked them with orange paint to let you know that what you're getting onto is going to move while you're on it.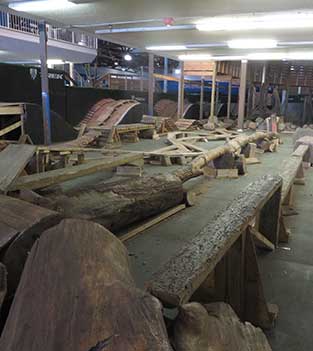 The Expert section
This was where I spent a lot of my time. I was able to do about four lines in here a decent percentage of the time. Some of the others I wouldn't even try, I'm not very comfortable with descending onto a skinny. I just don't like the thought of my front tire going off the side, and me going headfirst over the bars and onto the concrete!
In the picture below left is the common entry for the Sport (to the right) and Expert (to the left) sections. You will ride this part hundreds of times, and it's a fun section of dips. You can get some air on it, but after a couple of hours you'll probably want to save your energy and coast over it. Below middle shows the only teeter-totter in the Expert section. It's a big one, though, with three teeter-totters combined into the same line - the first one on top of the second one! As I mentioned before, keep your speed up and blast over them. Below right is the elevator - ride onto it and your weight lowers it to the bottom. Try to balance while it lowers, so that you don't have to touch the sides or touch your feet down. Make sure you ride all the way onto it, or your back tire will remain on the upper part while the front of the bike lowers(!).
Here's a video I made using YouTube's Creator Studio, mostly of two other guys, and a bit of myself. The guy on the orange fat bike was named Reid, one of the few I've met in my life. The guy riding the white bike and wearing a full-face helmet was Mike from Lake Geneva, a very skilled rider, as you'll see.