On Sunday November 2nd, 2014, a group of six of us met at Burchfield Park's Riverbend lot, to ride, and take videos of people riding, the just-finished Bambi vs. Godzilla stunt. It contains only one beginner line, three intermediate lines, and five advanced lines. Only one rider, known on the Michigan Mountain Biking Association forum as "AllMountin'", was able to complete all of them. The rest of us attempted to do the lines that we were not too scared to try! Here are a couple of diagrams of the different lines – click on them to see larger versions: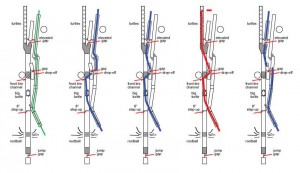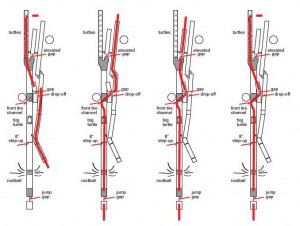 Videos of the rides will be posted, currently there are four on my web site, at the top of the following page. They will move down as I add things above them.
The construction page for Bambi vs. Godzilla is here. Check it out to see how I built these stunt lines. Be sure to look for the turtles!